Technical Specifications for the SAFE-LITE Blue Forklift Safety Light

SAFE-LITE's Blue forklift safety light is a durable, long-lasting led blue spot light. The technical specifications are below.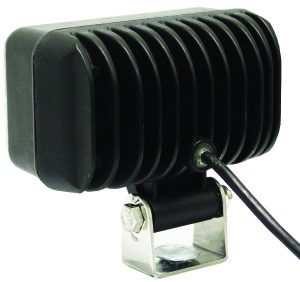 Input: 9-64volt DC Rated
Life: 50,000 hours
Warranty: Lifetime for manufacturing defects (return/replacement basis)
Light Intensity: 12,000 Candelas & 1,300 Lumens
Weigh: 2 pounds
Size:5″W x  3″H x 3.25″D
Temperature Rating: -22 to 185 F
Weather Rating: IP-67 provides full protection against dirt and is water resistant, can be pressure washed
Cable Length: 8′ with female spade
Light Type: 2-Cree Blue LED
Mounting Bracket: 140 degree swivel
Vibration rating:9G
Current draw is 0.6A at 9V, 0.45A at 12V and 0.2A at 64V
Part Number: SAFE-LITE
Installation is a breeze
The installation of the blue lights is fast and easy. They mount with one single bolt and have an adjustable bracket and full wiring. Mounting takes just a matter of minutes. In many cases, customers will wire the lights into the back-up alarm, so it comes on only when the forklift is in reverse. However, there are many other ways to wire them; anyone that is qualified to work on a forklift can provide insight on the best ways. We would suggest installing them with your in house people to save money whenever possible. We suggest hiring a dealer to install one and then have your people watch and repeat the process; however, you can sublet  the entire installation, if desired. Be sure the dealer, if one is used, is not quoting  you more than one hour per light maximum at their end user labor rate;  honestly, it should take less than that after the first one.